By: LYNN
Can Home Improvements Affect Your Home Insurance?
Tags: Insurance, Renovations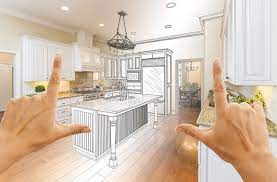 (NC) Our homes have become our havens during the pandemic, whether we're homebodies or not. While we're staring at old linoleum flooring, wrestling with stuffed closets and dreaming of installing a backyard hot tub, being at home has many of us pining for upgrades to our space.

Now with the weather warming up, lots of people have big plans for renovations, from backyard enhancements to indoor upgrades. Before you get started on your makeover, consider the following three types of renovations and how they can impact your home's resale value and your insurance:
lifestyle renovations to help meet your family's changing needs (like adding new bedrooms);
retrofit projects to update core components of the home (such as mechanical updates or exterior upgrades); and
maintenance upgrades required to repair or improve your home.
Typically, retrofits and maintenance projects will preserve or add value to your home, while the impact of lifestyle improvements may vary. Extensive kitchen and bathroom renovations may increase your home's value, while smaller improvements like painting a bedroom may not.

Renovations may also require permit approvals, depending on the size and scope of the project. Permits are typically required if you are:
adding a new structure to the land (including seasonal buildings),
doing renovations or repairs to your existing building,
updating the use of the building (like changing from commercial to residential usage),
changing the foundation, or
making changes to an on-site sewage system.
If you're not clear whether your project requires a permit, check with your municipality.

Renovations may have a lasting impact on the value of your home. Long after the dust has settled updates may affect your monthly insurance premiums. For example, certain additions like a pool or home office may result in an increase.

In contrast, renovations that improve your home's safety like a new roof or a home security system may reduce your rate. Let your insurance provider know about any changes you've made to keep your policy up to date.